Good morning! Today I got ready suuuuuuper fast for school...maybe because my hair is in a pony tail and I just tossed on my oh-so-cool Utah Jazz jacket. Nice. Anyways, I wanted to share a few details with "how-to's" (coming in later posts) of the decorations in my room so here we go!
I have moved apartments once again! That will be 3 different apartments in one year - HOORAH!! Although the actual carrying boxes part of moving is tiring, sweaty, and takes all day, I love switching areas and reorganizing everything :) Here's what my room likes like at my new place. Very similar to my old apartment, but I told myself that every time I moved I couldn't re-do my whole room (like I've done previously). So here we are with the same cute comforter and lots of pink!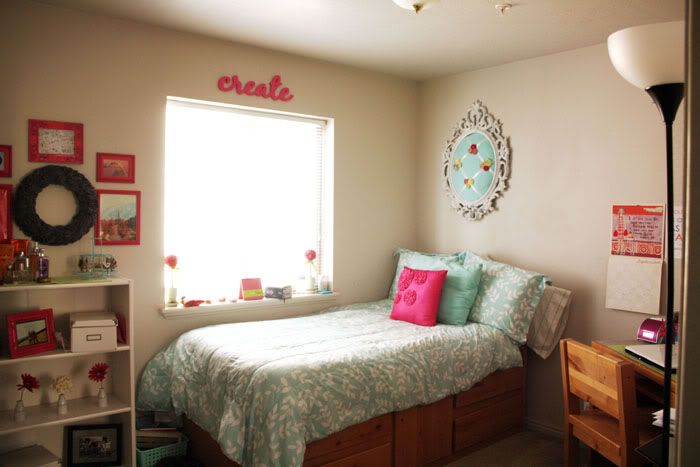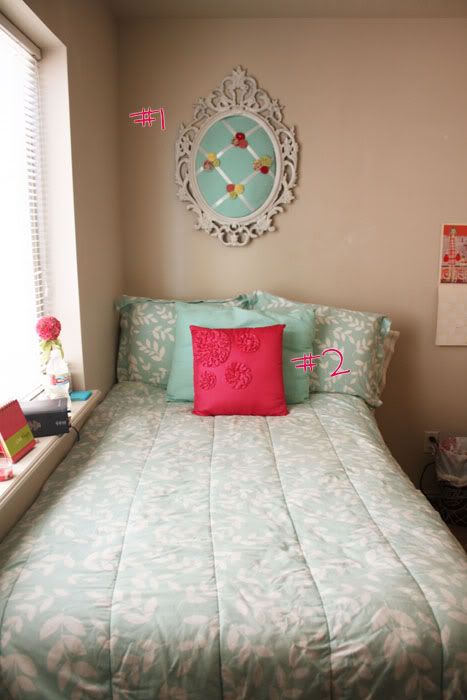 How to #1: The IKEA "queen frame". Doesn't it look like I'm trying to say, "Hail all who sleep in this bed!" Yeah I think so. But besides that, I LOVE this frame!
How to #2: The one aqua pillow behind my super cute pink pillow (found at Target last fall). My friends and I made pillows last summer and it was surprisingly super easy! Details to come!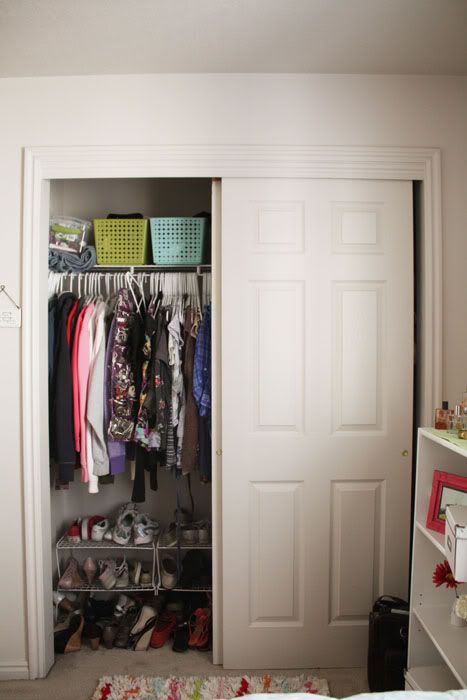 And that would be my awesomely large closet that for some reason doesn't fit all that I want it to. ATTENTION PEOPLE!! I have way to many clothes!!! But in all fairness to me, some of my stuff is from the 9th grade and I haven't really done much growing since I was 14. For some reason I haven't been able to part with some of my stuff. Sigh. Even though it gets worn like once a year.
How to #3: Frames! Frames! Frames! A nice "toot" to come because these are super cheap, easy to make, and adorable!
How to #4:
My invented earring holder

is
ammmmmazing
. Can anyone guess what that is
supposed to be used for?? :)
How to #5:
The wreath ♥ This was a last minute summer project that my friend Marlena told me about. We both made one. In grey.
Alrighty well that's all! And perfect timing because now I have to go to escuela! Have I mentioned that I am going to school full time, working 2 jobs, and running my awesome business? Yeah life gets kinda crazy. Which is why I blog at 7:00 a.m. when most college students are hitting the snooze button. :)
Peace.